Devils Tower National Monument
Devils Tower, Wyoming
Devils Tower, America's first national monument stands 1,270 feet above the Belle Rourche River and rises 867 feet from its base reaching a summit elevation of 5,117 feet. The tower was first climbed in 1893 by Willard Ripley and William Rogers by aid climbing up stake ladders.
Forty years later the next new route to the summit was established on May of 1937. Today more than 6,000 climbers annually "register" to climb here and climbs range from 5.6 to 5.13.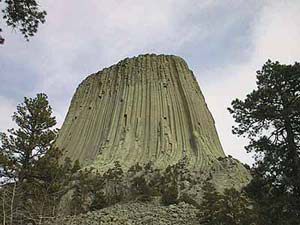 Above: Devils Tower
Right: Melanie Rives climbing the Durrance Route