The Rostrum Jump
Yosemite National Park, CA
On the drive into Yosemite National Park one may have noticed a rope span from one cliff to another. This was quite a treat to see and that this was a climbers way of having some free-falling fun. The Rostrum Jump was approx. a 300' free fall off of a 1,000'+ cliff.
Below are a couple pictures from the jump: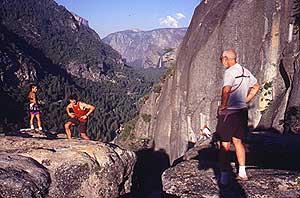 Left: Al Aldrich and gang enjoying the fun!
Right: Is that Al going for big air?
Below: Brian Biega after the jump

(Click on image to enlarge)

Below: Brian Biega back to stable ground

(Click on image to enlarge)